Fethiye is one of Turkey's most popular coastal regions. Each summer, resorts like Ovacik, Hisaronu and Calis entertain thousands of holidaymakers, many staying in hotels and others opting for daily or weekly villa and apartment rentals in the area. But is purchasing a buy to let property in Fethiye a good idea? Can you really make a decent return on your investment?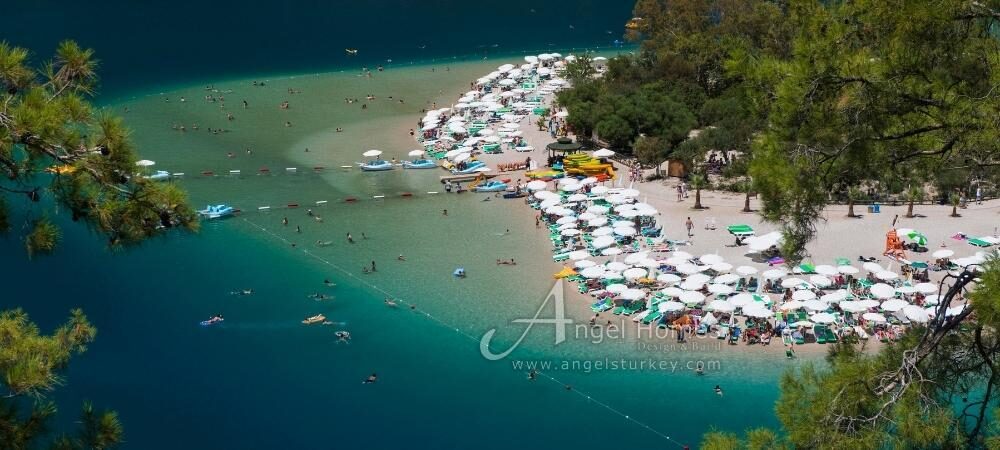 Buy to let property in Fethiye.
Over the past two years, there has been a shift in how many people choose to spend their vacations. Since the pandemic, far more people opt to stay in private villas or apartment rentals rather than mix with the crowds in busy hotels and resorts. This is excellent news for those who rent their holiday homes in Turkey, as they now enjoy increased bookings and premium returns.
Travel experts are suggesting Turkey will be a holiday hotspot this summer, and bookings are already coming in thick and fast. If you're thinking of purchasing a buy to let property in Fethiye, now is an excellent time to search for a suitable property. If you're considering a holiday home purchase, here's a look at what's involved in running a rental home and the returns that are realistically achievable.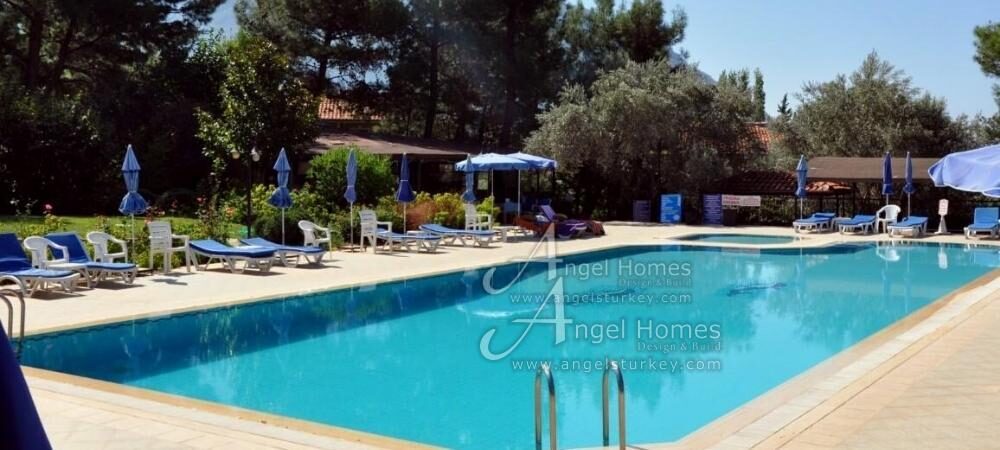 Why invest in a buy to let property in Fethiye?
Since 2020, property prices in Fethiye have risen dramatically. Land prices in popular resorts have skyrocketed, and property demand is at an all-time high. Some of the factors causing the rise are:
Demand. Ten years ago, it was mainly the English that came to enjoy the sun and the fun in Fethiye's resorts. But now, although the likes of Ovacik and Calis remain popular with the English, far more Europeans, Russians, Middle Eastern, and international visitors come to enjoy the fabulous beaches, facilities and benefit from the favourable exchange rates. Fethiye is now more cosmopolitan, and a growing number of global businesses and brand names are opening in the town. New parks, a cable car, fancy harbourside promenades and a wide range of excellent schools and health facilities have opened. The local government is proactive and improving the town's utility supplies, drainage, and infrastructure. Fethiye is deemed an extremely desirable location to both reside or enjoy holidays. The town and its resorts have almost doubled in size to accommodate the growing need for accommodation. Those who own a property in Fethiye are enjoying significant capital gains, and those renting their property over the summer months are receiving excellent returns from May to October.
Land Shortages. Another factor causing property prices to rise in Fethiye is a land shortage. Protected forestry, mountains and agricultural land surround the towns most well-loved resorts; therefore, there's a severe lack of land for further development in villages like Hisaronu and Ovacik. A handful of families and developers own what little land is left, meaning we are rapidly approaching a time when new build properties will be very few and far between. The way things are going, it is inevitable property prices in these areas will continue to rise.
Favourable exchange rates for foreigners. For those dealing in pounds, dollars or euros, the cost of purchasing and running a property in Turkey is highly favourable. A property of a similar spec in the UK or an equally desirable tourist destination in Spain or Europe would cost far more. Although inflation has caused costs and prices to rise in Turkey, council taxes and yearly running and maintenance charges are still far less than in many other countries. This makes property in the area affordable and a wise investment for those earning a foreign income.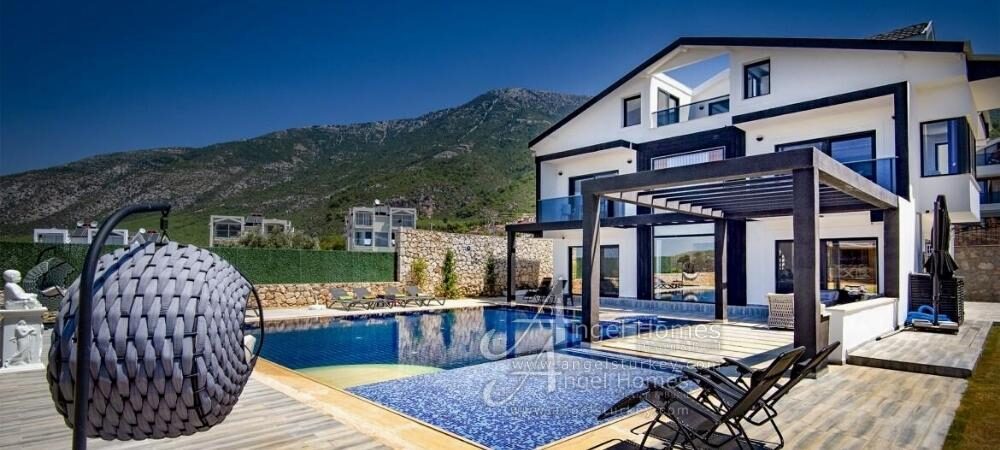 Advantages of owning a rental property in Fethiye.
A regular income. One of the main benefits of owning a rental home in Fethiye is that, provided the bookings are managed correctly and empty periods are kept to a minimum, you can enjoy around 26 weeks of income during the summer months. Many of the resorts around Fethiye are seasonal, meaning the primary rental yields are taken from May to October. Rental returns differ according to the size of the property, its location, facilities and the rental month – the high season (July and August) attracts the best weekly returns.
Capital gains. Owning a buy to let property in Fethiye is a tangible asset, meaning aside from rental returns, your investment should appreciate in value over time. As noted above, Fethiye is an area where property demand is rising and land is running out, meaning an investment should go up in value quickly.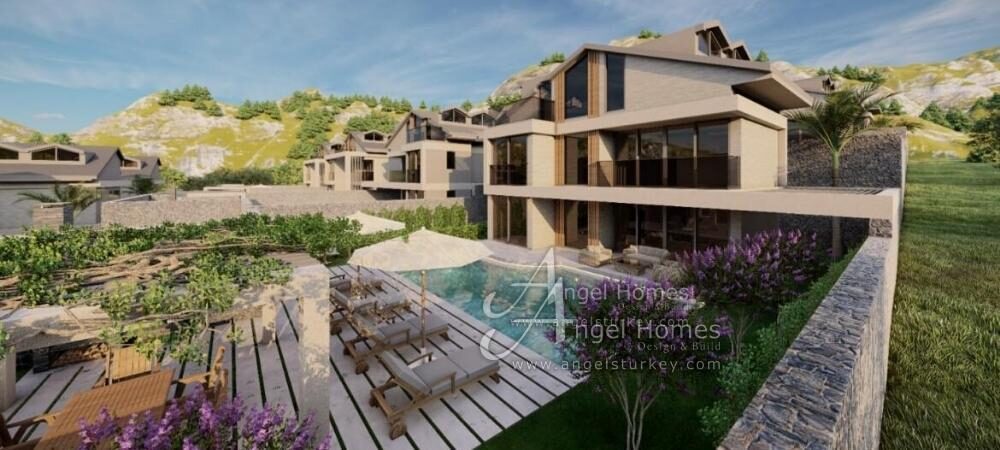 How to rent your holiday home in Turkey
You need to consider several factors if you want to rent out your holiday home in Fethiye. The first is that you must abide by local laws and oversee the rental management process and daily running of your property correctly. The main annual running costs include:
Pool and garden maintenance
Water (including water tankers to fill the pool)
Electric
House Insurance
Cleaning for guest arrival, mid-week cleans, and an annual opening/ closing clean
General wear and tear etc for the property (gas bottles/linens/breakages etc)
Local regulations also require you to register your property as a rental concern and enter all guests daily into a national booking/management system. Failure to do so can result in hefty accumulating daily fines. This process can be costly and time consuming for non-Turkish owners and those living remotely. Thankfully, companies like Angel Rentals are on hand to attract bookings and manage the entire process for you, meaning you can relax knowing your property and guests are in safe hands, and the legalities are attended to. For full details on the rental process, please CONTACT ANGEL RENTALS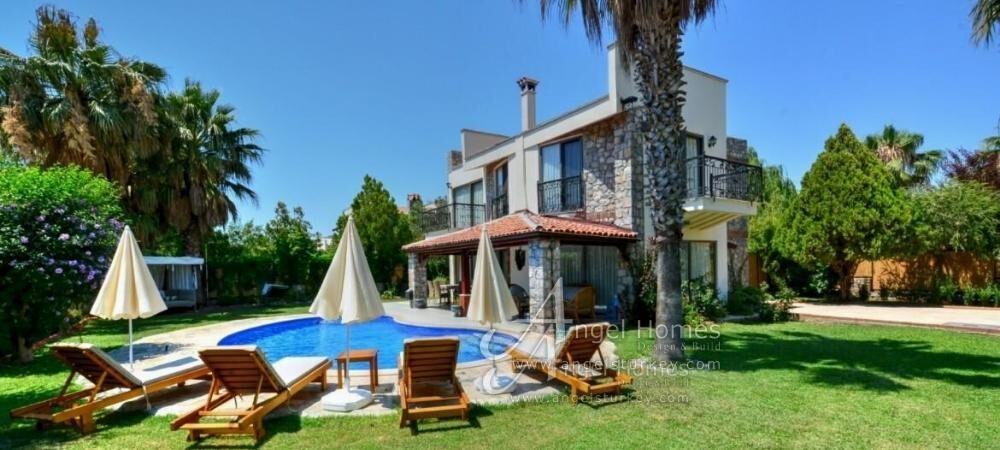 What returns can be made from a buy to let property in Fethiye?
Now, let's look at some examples of the returns that are achievable from a holiday rental home in Fethiye. For the purposes of this post, we are using a 4-bed private villa, a 5-bed luxury villa and a 2-bed apartment. These properties are listed on the ANGEL RENTALS website. The two villas are also for sale via ANGEL HOMES – links to the listings are included below.
The costs and figures below assume 26 weeks are rented and are based on a figure in between the 2 rental cost periods. This figure will obviously be reduced if personal holidays are taken and if all weeks are not fully occupied. The figures are approximate and the profits listed take into account the average running costs for cleaning, water, electric etc., as listed above. Costs are based on average from last year (2021).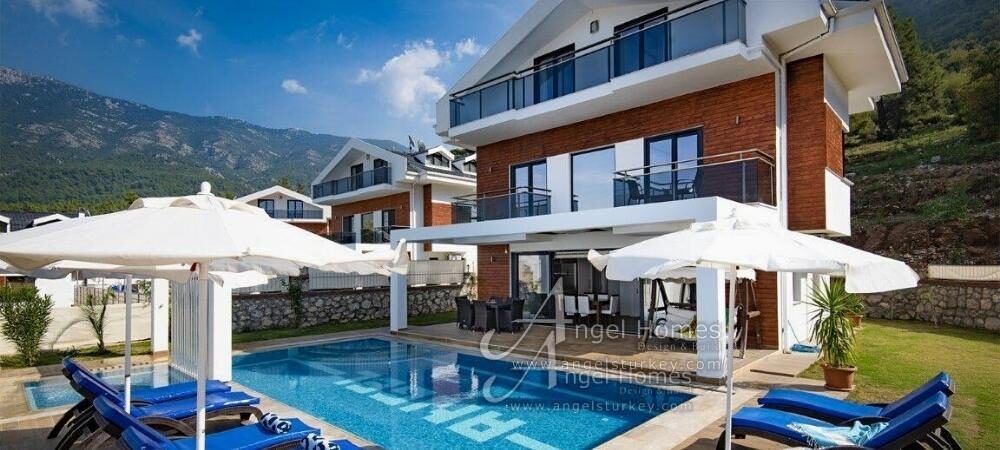 Furnished 4-bed private villa with a pool in Ovacik
This 4-bed villa in Ovacik is ideal as a buy to let property in the region. For starters, it's offered at a very competitive price (£325,000) given the current market. Other lures are that it comes fully furnished to a high standard, it's in a great location within easy reach of Hisaronu resort and Oludeniz beach, and it already has a solid rental history attracting between £105 and £305 per night from April to November. (View the RENTAL LISTING).
Average weekly rental prices by period:
Low Season (May & Oct)  –  £690
Mid Season (Jun & Sept)  –  £1,267
High Season (Jul & Aug)  –  £1,652
Rental Income (26 weeks) : £31,278
Possible Profit (26 weeks – after running costs): £25,600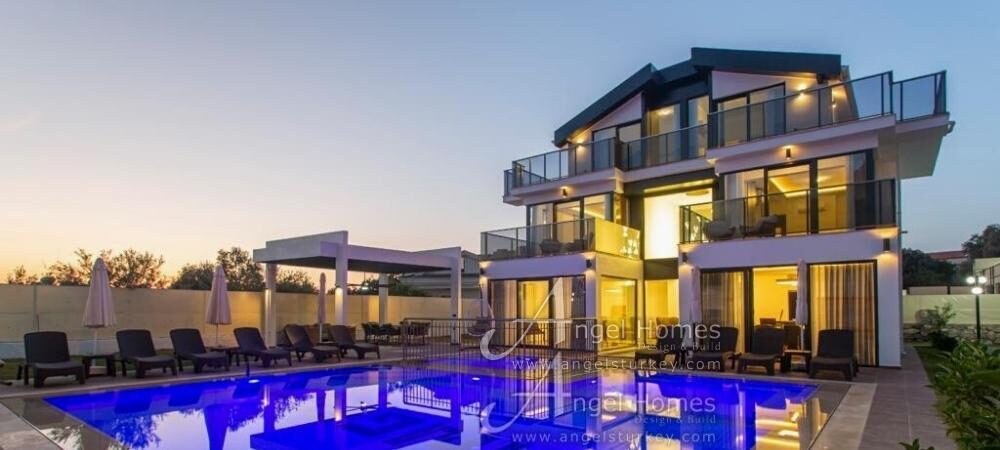 Luxury 5-bed private villa with pool in Ovacik
Here is another example of a property that is both for sale and for rent with Angels. It is a modern triplex home sleeping up to 10 people in 5 bedrooms. It's in a great Ovacik location within easy reach of Hisaronu and the beach and comes furnished to an exceptional standard including many luxury features. It attracts a daily rental of between £160 and £450 per night. View the SALES LISTING or the RENTAL LISTING for full details.
Average weekly rental prices by period:
Low Season (May & Oct)  –  £1,000
Mid Season (Jun & Sept)  –  £1,925
High Season (Jul & Aug)  –  £2,500
Rental Income (26 weeks) : £48,400
Possible Profit (26 weeks – after running costs): £41,550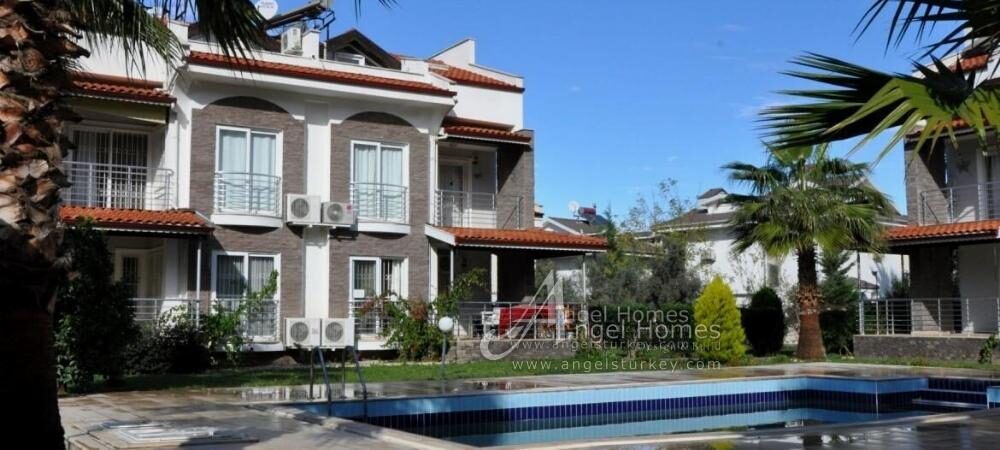 Furnished 2-bed apartment on a popular complex with a pool in Ovacik.
Apartments also attract good rental returns. The apartment listed above is in a superb location just a few minutes walk to Hisaronu resort. VIEW THE PROPERTY for sale for £95,000. Although this property isn't listed for rental with us, we have a similar 2-bed property in a neighbouring complex that attracts between £50 and £62 per night. See ANGELS RENTAL LISTING.
Average weekly rental prices by period:
Low Season (May & Oct)  –  £294
Mid Season (Jun & Sept)  –  £385
High Season (Jul & Aug)  –  £462
Rental Income (26 weeks) : £9,888
Possible Profit (26 weeks – after running costs): £7,063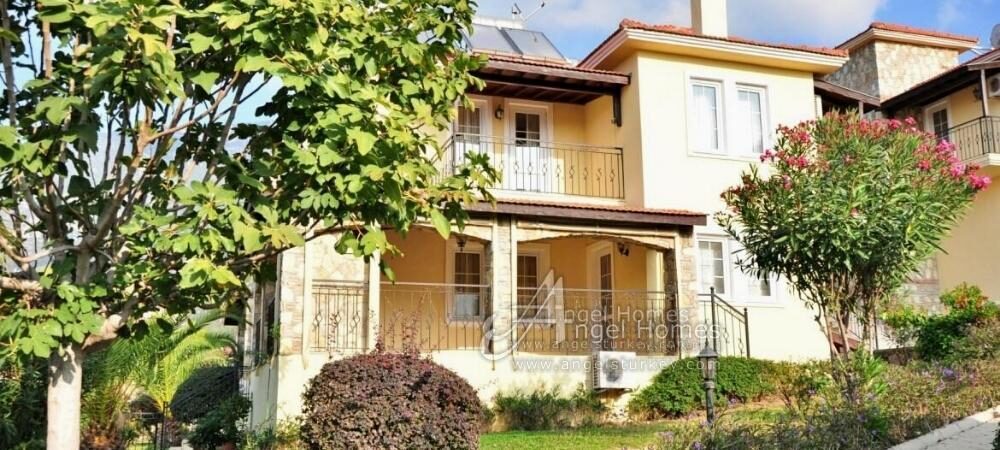 IS A BUY TO LET PROPERTY IN FETHIYE A WISE INVESTMENT?
If you are considering purchasing a property in Fethiye as a rental concern, hopefully, this post has given you food for thought. A buy to let property is an excellent investment providing you buy wisely and market the property correctly to attract sufficient bookings. If you would like to know more about buying rental property in the region, please contact ANGEL HOMES. If you would like more information on renting your holiday home or to see current rental listings, please see ANGEL RENTALS WEBSITE or CONTACT the rentals team.