Summer is coming and the resorts around Fethiye are slowly springing to life after winter hibernation. The days are getting longer, the sun has popped its hat on, and the locals are finishing renovations to their properties, bars and restaurants in readiness for the tourist season.
For many people sitting at home and staring out at the dreary weather, March is the time to dream of summer vacations and start browsing the holiday rental listings online.
Well, browse away and take a look at Angels Rentals! We are hoping for a great year and have a fabulous 2020 array of apartments and villas for rent in Ovacik, Hisaronu, Oludeniz and Faralya.
As a little taster of what's on offer, see a few of our top rental picks below.
ANGELS PICKS: 4 GREAT VILLAS FOR RENT IN OVACIK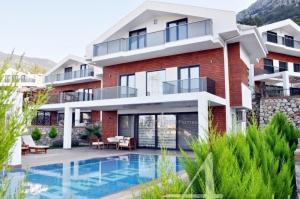 Nestled into the foothills of Babadag Mountain, 5 minutes drive from Hisaronu and less than 10 minutes drive from Oludeniz beach, is Angels Prestige Villa E. This beautiful contemporary home boasts 4 en-suite bedrooms, a private garden with parking, a large swimming pool with children's pool, and sleeps up to 8 guests.
Prestige Villa E has been meticulously maintained and contains many high-end features. Offering fabulous views over the Ovacik valley, this villa for rent in Ovacik would make the ideal base for anyone wanting a little peace during the day, but wants to still be within easy reach of the local resorts and action. More…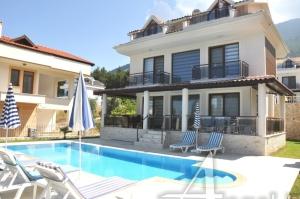 Panorama Villa is aptly named as it lies in a peaceful hillside location and offers stunning views over the Ovacik valley. Just 5 minutes drive from the 24/7 resort of Hisaronu and 15 minutes from Oludeniz beach, it's the ideal family holiday rental and a great base for enjoying and exploring the region.
Panorama villa has a contemporary, light and airy feel. The garden boasts a large pool and BBQ area, as well as off-road parking so ideal for anyone that intends hiring a car. The ground floor interior is an open-concept space with a combined living, dining and kitchen area where you will find all the necessities of home. The two upper floors contain 4 good sized bedrooms with private terraces and modern bath/shower rooms.  More…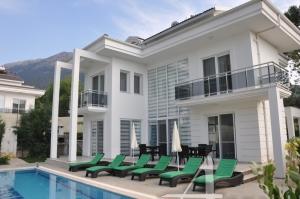 If you think of a holiday home abroad, you may well be imagining a fancy white-washed villa with a feature pool. Well, that pretty much sums up this listing, a gorgeous, Instagram-worthy villa with a sky-blue pool and terraces offering lovely views over Ovacik towards Oludeniz.
Angel Unique Villa B is a luxurious property boasting 4 ensuite bedrooms and sleeping up to 8. The villa is located in a quiet residential area of Ovacik, just a 15-minute walk from Hisaronu.
Unique Villa B will appeal to anyone who likes contemporary design. High-end fixtures and fittings, wall to ceiling windows, stylish furniture, ceramic tiles and marble give the property character. The open-plan living space with kitchen, lounge and diner make the home practical and this property a great choice for anyone wanting to enjoy time in the area without giving up their home comforts. More…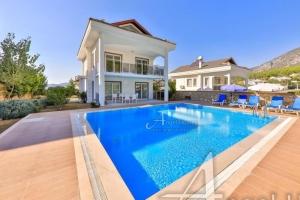 This stunning modern villa is hard to beat! It's a modern property and the ideal holiday home rental located in a quiet part of Ovacik yet still within reach (10 minutes) of all the area has to offer.
The property is beautifully designed and appointed and comes with everything you need from a home away from home. The garden features a large pool with ample sunbathing area and a large terrace to set the scene for pre-dinner drinks or a lazy lunch. The interior is spread over 3 floors. The ground floor is of open-plan design with a stylish kitchen, dining area and lounge. Three good-sized bedrooms with bathrooms and balconies can be found on the upper floors. More… 
About Angel Homes and Rentals.
Angel Homes is a family-run construction and real estate company with offices in the centre of Hisaronu near the market square, and at Nefes Breakfast Restaurant in Ovacik. Established in 2004, we build, sell and rent properties around Fethiye, Hisaronu, Ovacik, Faralya, Calis and Uzumlu.
We are passionate about our business and love what we do. If you are thinking of buying or renting a property in Fethiye or simply seeking reliable local property advice, please CONTACT US.