If you fancy living a little off the beaten track yet still wish to be within 30 minutes of Oludeniz resort, take a look at this stunning 5-bedroom property in Faralya, it's a real eye-catcher – and it's nearly complete!
ABOUT FARALYA
Faralya will suit those that relish a little peace and tranquillity yet still want to be within reach of the lights and mayhem of Fethiye's most popular resorts. Faralya is a stunning location where the sea and mountain breeze gently cools the air, and the wild-flowers and nature surround you. Until recently, Faralya was simply a small hamlet tucked into the foothills of Babadag mountain with a handful of village houses and a few basic pensions (hotels). The area is officially called Uzunyurt, meaning "long valley", but most know it as Faralya and the only foreigners that travelled through tended to be hikers and trekkers walking the famous Lycian Way.
The last decade has seen a flurry of development in this pretty hillside location. The area offers the ideal escape for those looking to get away from the tourist crowds, yet it's only 15 km south from the famous lagoon and resort of Oludeniz. Today, boutique hotels nestle into the pine-clad cliffsides and fancy villas hide amongst the trees, all serving up fabulous views over the Med. This is an area that is still developing. Faralya is also one of the few areas around Fethiye to offer clear sea views. Over time, the prices of property in Faralya are likely to rise considerably as frontline plots get snapped up by eager investors. The area, therefore, offers a fabulous investment opportunity for those that purchase now, before others follow suit.
ANGEL HOMES 5-BED LUXURY PROPERTY IN FARALYA £599,000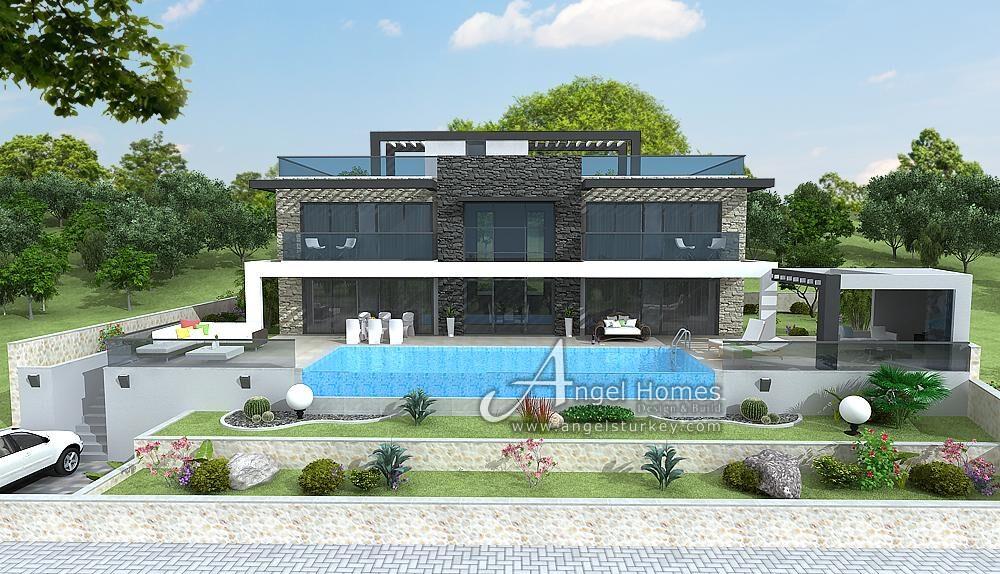 This Angel Homes property offers the perfect amount of isolation and privacy, along with all the modern comforts of high-end living.
This luxury property in Turkey is stylish in both its functionality and aesthetic. It is a modern 5 bedroom, 5 bathroom villa sitting on a large 650 sqm plot with an infinity pool looking out over uninterrupted sea views. The property is packed full of creature comforts, its interior spread over 280 sqm and of a sophisticated, contemporary and spacious design. Luxury fixtures and fittings are used throughout.
A main highlight of the ground floor is the open-plan kitchen, dining and lounge leading out onto the poolside terrace. Clever design and use of floor to ceiling windows and patio doors allow light to flood the space, bringing the outdoors inside. The entrance floor also has a WC/cloakroom and a large en-suite bedroom ideal for those that struggle with stairs. A further 4 en-suite bedrooms can be found on the upper floor, all with access to private sea-view balconies.
This Faralya property and its location need to be seen to be appreciated. Currently, in the last stages of completion, this villa is still offered at the off-plan price so it's a great opportunity to get your hands on a phenomenal sea view property in Fethiye that's sure to rise considerably in value in the future. For those that have dreamt of owning a luxury villa in Turkey, this could be where your dream ends! VIEW THE FULL LISTING… 
THINGS TO DO IN FARALYA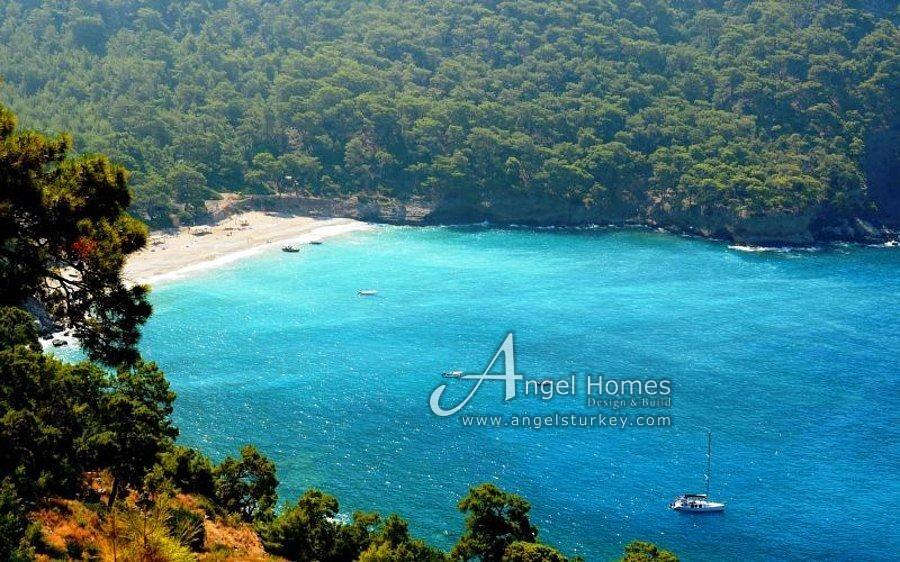 Faralya is a relatively remote location, accessed via a steep coastal road from Oludeniz bay. Buses do run along the main through road of the village, there is also a growing number of local stores selling the basics, but the main supermarkets and shops are found in Oludeniz, Hisaronu and Fethiye.
Life runs at a slow pace in Faralya, it is a sleepy relaxed location. But if you are looking to keep yourself entertained, here are a few ideas of things to do in Faralya:
Laze on the shores of Kabak Beach. Kabak Bay is regarded as one of the best natural beauty spots along the Turquoise Coast. The area has become popular with backpackers and yogis over the past ten years, but aside from a few chanting "namaste", it remains a local hidden gem and relatively unspoiled. Catch some rays and enjoy a swim in Kabak's clear blue waters, or head to one of the local pensions or boutique hideaways for a hearty Turkish breakfast or lazy lunch.
Take a walk along the Lycian Way. The Lycian Way is Turkey's most famous coastal walking route stretching 540 km from Ovacik to Antalya. It takes an average of 29 days to walk the entire trail, but local stretches run straight through Faralya and offer the chance to get back to nature and soak in the beauty of the coastline. The trek is moderate to hard in places, and offers glorious views over the Mediterranean – do make sure you stick to waymarks and take your phone and plenty of water with you!
Take yoga or art lessons. Faralya is an undeniably beautiful location, so it naturally attracts those looking for a rural or spiritual escape. There are several beautiful boutique hotels and shabby-chic cabins and campsites in the village that run yoga retreats or art and photography camps. Why not take a look online and join in on a few sessions?
Tickle your tastebuds and sample the local cuisine. Faralya is a natural location, and the hillsides are awash with wild sage, rosemary and thyme. The area is also known for its organic olive oil and honey. While in Faralya, do head to a local restaurant and try the great food on offer. From local pancakes filled with feta and herbs to fresh sea bass or sea bream grilled to perfection, there's a wide range of dishes that showcase the local produce.
Watch the sunset. One of the best things about owning a property in Faralya is that there's no excuse not to relax. Grab a glass of wine, stare over the sea and enjoy a sundowner or alfresco meal. Be treated to the most spectacular sunsets from your terrace. Watch as the sun fades and the sky transforms through shades of orange and red before leaving the night sky filled with stars – with little light pollution in the area, there is no better way to appreciate the stars, your life and the surroundings!
ABOUT ANGEL HOMES
Angel Homes are a family-run construction and real estate company with offices in the centre of Hisaronu near the market square, and at Nefes Breakfast Restaurant in Ovacik. Established in 2004, we build, sell and rent properties around Fethiye, Hisaronu, Ovacik, Faralya, Calis and Uzumlu.
We are passionate about our business and love what we do. If you are thinking of selling or buying a property in Faralya or Fethiye, or simply seeking reliable local property advice, please CONTACT US.