2020 has been far from normal, and we all now look towards 2021 in the hope of a far healthier and happier year. Despite pandemic constraints, Angels Rental enjoyed a good summer 2020 season. Many domestic and foreign travellers still came to Fethiye to enjoy their holidays, and the majority chose to stay clear of the crowds in the safety of private villas and apartments.
Hopefully, travel constraints in 2021 will ease, and those that want to travel to Turkey can do so freely and with more confidence. It's expected that holiday homes will still be the accommodation of choice, so here's a look at some of the best holiday homes to rent in Hisaronu and Ovacik next summer.
2021 HOLIDAY HOMES TO RENT IN HISARONU AND OVACIK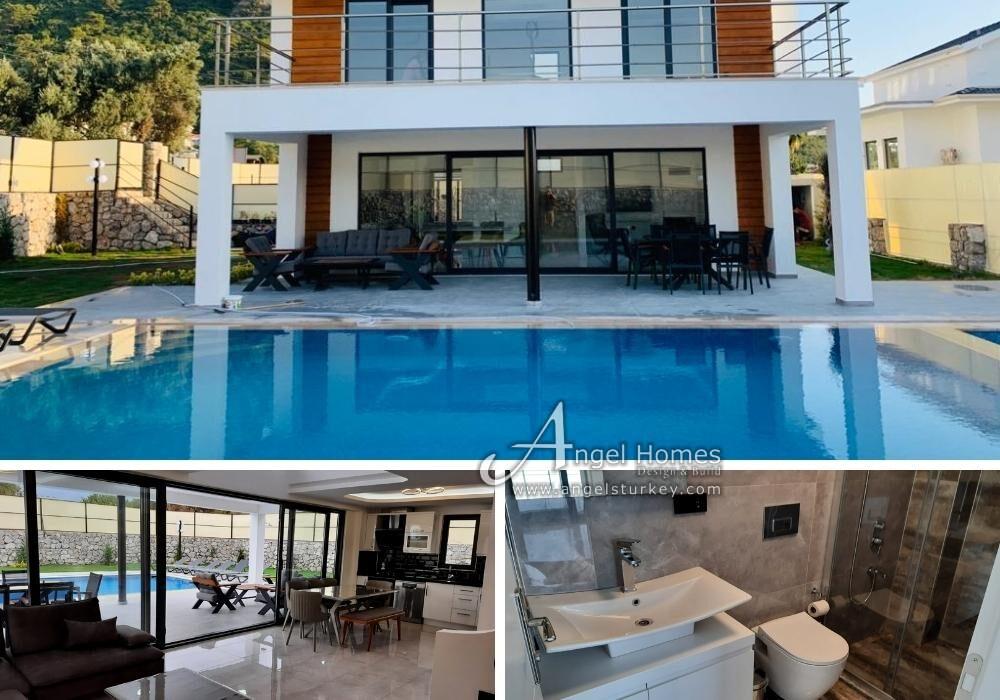 ARSLAN VILLA, OVACIK. FROM £90 p/n
If you're seeking a walled private villa away from the crowds yet close enough to the resorts to pop in if you fancy, consider Arslan villa. This beautiful modern villa was completed in 2020 and is the ideal home from home. Tucked in a residential part of Ovacik, it is less than five minutes taxi/drive from Hisaronu, and ten from Oludeniz beach.
The ground floor is light, airy and open plan. There's a modern kitchen with all the mod-cons, a comfy seating area and dining space. Oversized patio doors lead to a glorious poolside terrace ideal for al-fresco dining and sunset drinks. The pool, children's pool, garden and grounds are screened so perfect for those that value their privacy.
The two upper floors home four large ensuite bedrooms, all with private balconies overlooking the grounds, mountains and valley. Arslan Villa is a great holiday home to rent in Ovacik and ideal for families. Neighbouring villas are also available should you wish to make a group booking. MORE…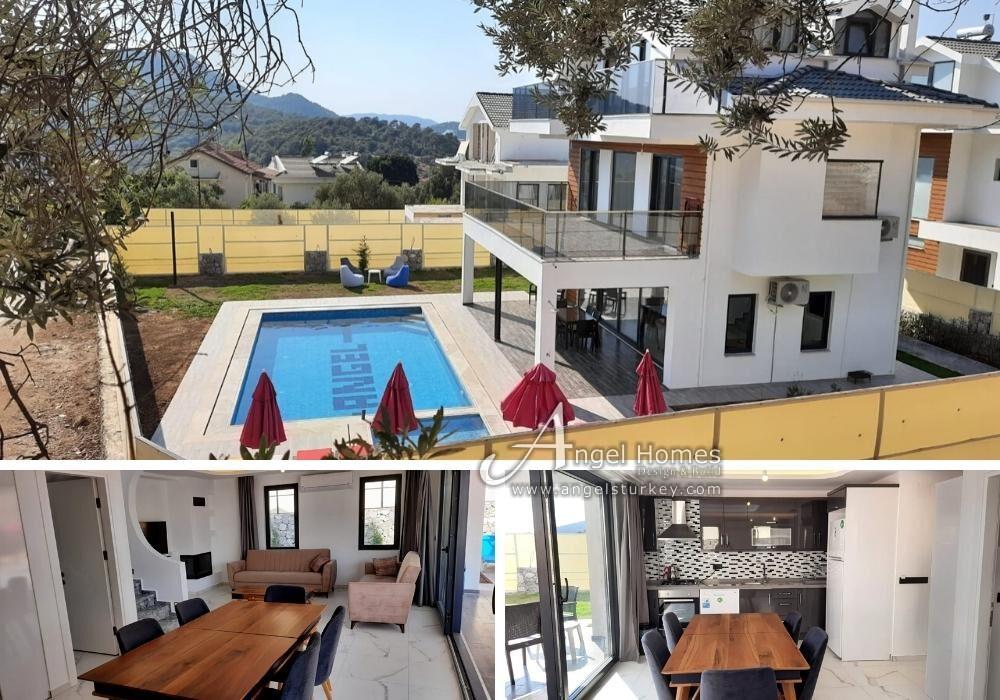 SHERBELLA VILLA, OVACIK. FROM £90 p/n
Completed in 2020, Sherbella Villa is one of our new collection of rental properties and is an exceptional holiday home sleeping eight. Tucked away in a quiet part of Ovacik, the property boasts fabulous views and is just a 5-minute drive from the bright lights and action of Hisaronu. Fethiye town can be reached in 20-minutes and the famed Oludeniz lagoon in less than 10.
The grounds of Sherbella Villa are screened for privacy and meticulously maintained. There is a good-sized private pool and ample sunbathing space for those that enjoy topping up the tan.
The interior is contemporary and set over three floors. The ground floor homes an open-plan kitchen, dining and lounge with large double doors leading to a shaded dining terrace overlooking the pool. Four ensuite bedrooms can be found on the upper floors, all with balconies. MORE…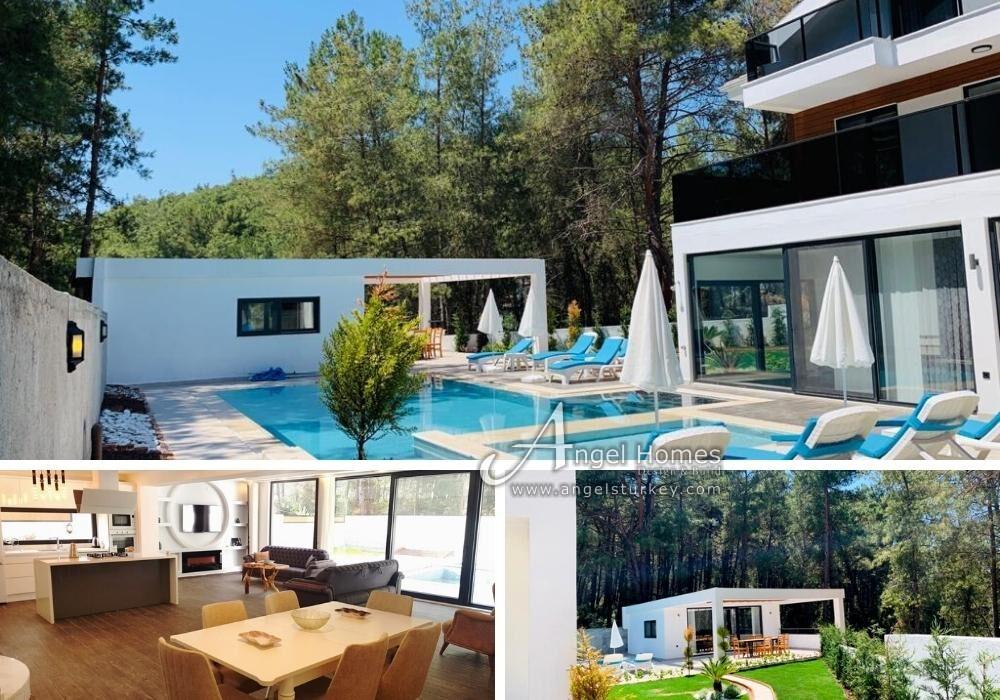 ANGELS HISAR PRESTIGE VILLA C, HISARONU. FROM £135 p/n
All homes are impressive in their own way, but occasionally there's one that stands out from the rest, and that's certainly the case with Hisar Prestige C. This private 5-bed villa sleeps up to 10, and it's just a stone's throw away from the shops and nightlife of Hisaronu. It's ideally located to offer the best of both worlds – close enough to the resort centre to be near all the action, yet far enough away to soak in the mountain views and enjoy a little downtime when you wish.
This triplex villa was completed in 2019 and is modern throughout. The ground floor boasts a spacious open-concept living room and kitchen leading out to a spectacular dining terrace overlooking the pool. On the upper floors are four good-sized bedrooms, each with ensuite facilities and balconies. The grounds are walled and gated with private pool and parking. This particular villa is unique as it sits on a large corner plot and has a self-contained annexe in the garden. This lovely addition sleeps two and benefits from a kitchen, bathroom and living space.
Hisar Prestige Villa C is one of several Hisar Prestige Villas in the same area, so ideal for groups, wedding parties or families. Neighbouring villas can be booked if availability allows, please CONTACT US for details.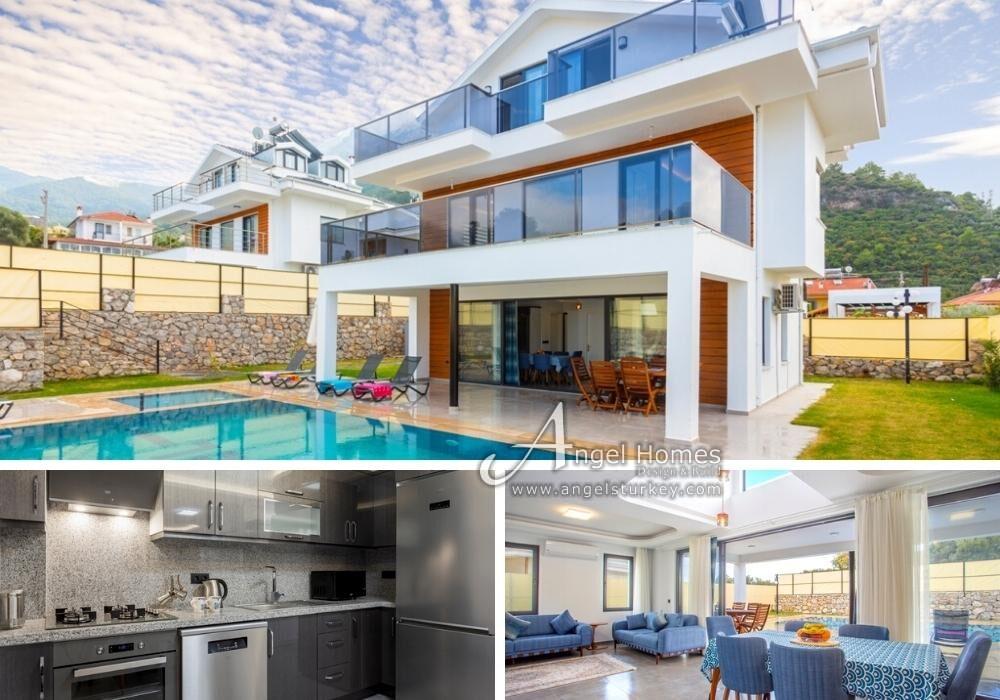 VILLA MARIA, OVACIK. FROM £90 p/n
This stylish brand new villa sleeps up to eight and is in a lovely residential Ovacik location. A five-minute drive takes you the nightlife and shops in Hisaronu, and within ten minutes you can be sunning yourself Turkey's most famous lagoon in Oludeniz.
Villa Maria is walled and screened, and it comes with high-end fixtures, features and furnishings throughout. The grounds home a good-sized pool with a separate kids pool for the little ones, plus there's ample garden and sunbathing space. The interior stretches over three floors, with the ground floor boasting a modern open-plan kitchen, living and dining area. Stairs lead up to 4 bedrooms, all ensuite with balcony access overlooking the grounds, pool and valley. MORE…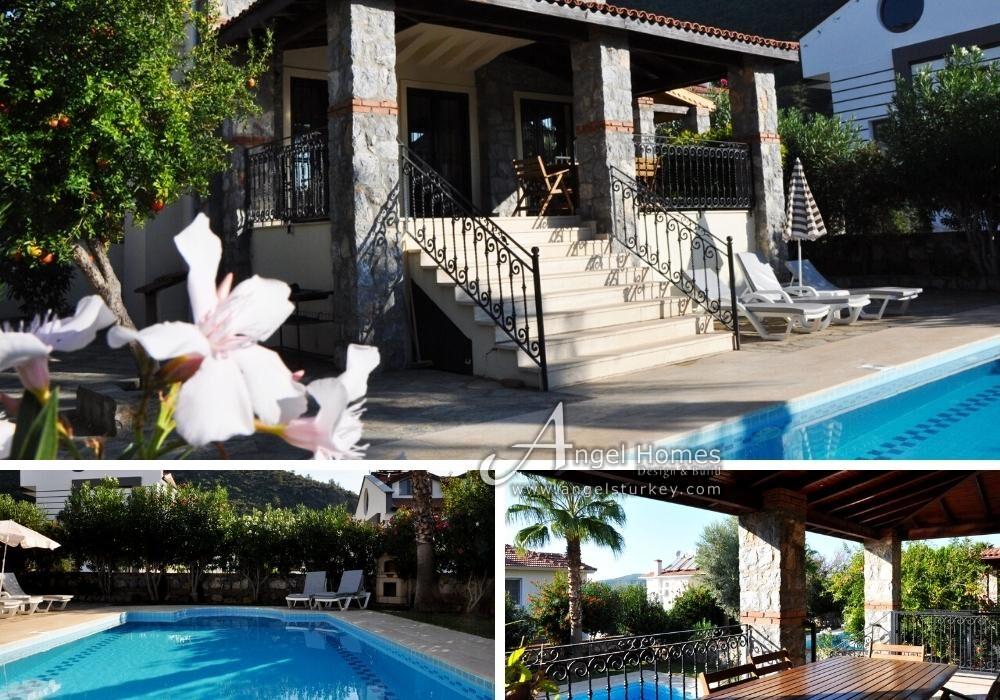 OLIVE VILLA, OVACIK. FROM £60 p/n
If a traditional villa is more your style and budget, Angel Rentals also have many options on the books. Olive Villa is one such example; a beautiful private 3-bedroom villa tucked on the mountainside of Ovacik, yet still within a 10-minutes from Hisaronu.
The villa has its own pool, garden and grounds that are ideal for relaxing and soaking in the beautiful Turkish sun. Olive Villa is of duplex design, with a separate lounge and kitchen on the entrance floor leading to a good-sized dining balcony overlooking the pool. The villa has an attractive, homely feel, with an open fireplace and stove perfect for those thinking of taking a holiday early or late season when the evenings get chilly.
A master double and two twin rooms can be found on the upper floor, sharing two separate shower rooms. MORE…
SEE ANY RENTAL VILLAS OF INTEREST?
If you would like to know about any of the villas listed above, please click the pictures or links, alternatively Angel Rentals are happy to send you a tailored list of holiday homes for rent in Hisaronu or Ovacik if you CONTACT US.