The world's a big place with many locations to visit, so it takes an exceptional destination to lure you back time and again. Let us introduce you to Fethiye, a fascinating region of Turkey that mesmerises those that come, and calls you back again. Why? Let's take a look – here's a multitude of reasons to love Fethiye.
REASONS TO LOVE FETHIYE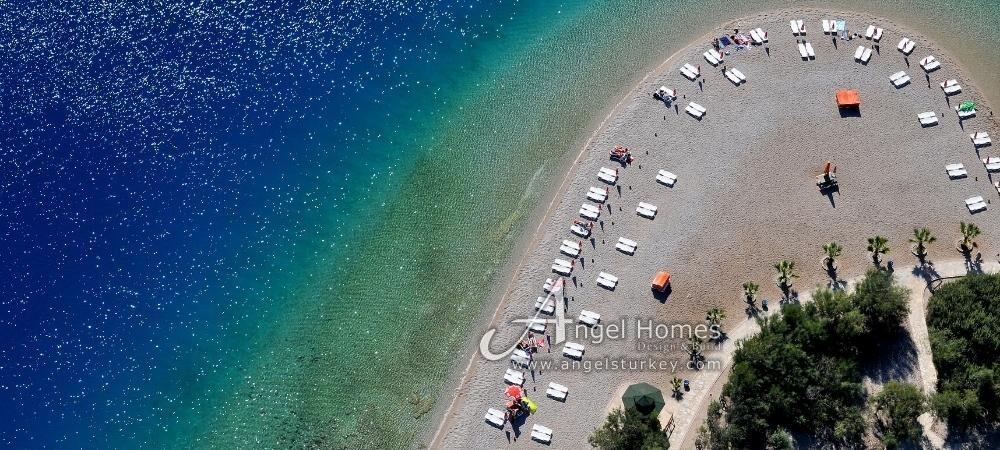 1. Long hot summers
Sun lifts your spirit and heals the soul. Vitamin D is good for you, and it strengthens your bones and boosts energy. Most of us take holidays in the sun, and from March to November there's plenty of sun in Fethiye. The hottest months are July and August when the temperature rarely drops below 30 degrees Celcius. Still, spring and autumn are also fabulous for those who enjoy walking, excursions or want to tour the property for sale in Fethiye.
2. Mild winters
As those in the UK reach for their winter coats and umbrellas, the locals of Fethiye are still sat on the beach and enjoying BBQ dinners in their gardens. Although the hot summer weather usually breaks by October and the nighttime temperatures drop, most winter days are sunny and mild. The main rainy month is January. Still, even then rainfall is normally torrential but short-lived, so people can resume sitting outside cafes of an afternoon and enjoying long walks along the prom. By January the mountains around Fethiye are beautifully snowcapped – and it's even possible to build a snowman in the foothills of Babadag in the morning, then paddle in Oludeniz lagoon that afternoon.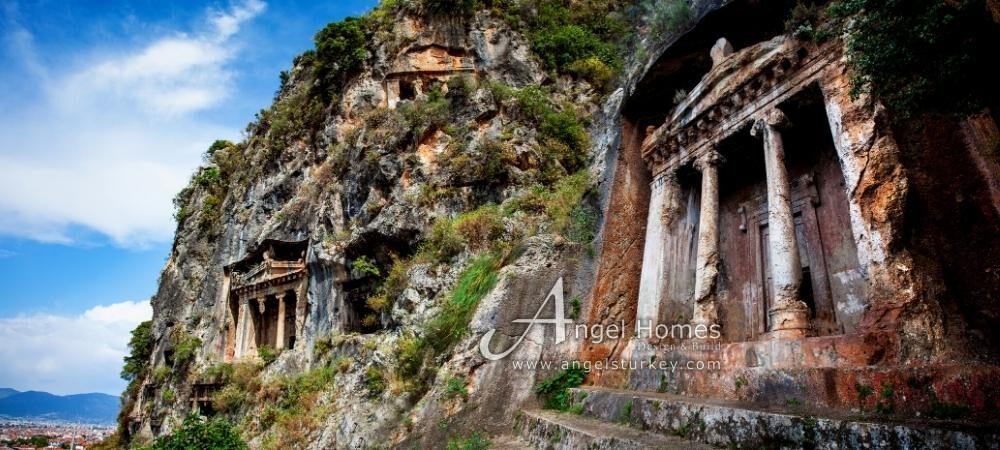 3. Fethiye is a town full of history
Fethiye is a fascinating town that's been home to many civilisations, and the majority have left their mark on the landscape. From the ancient Lycian rock tombs on the cliffside above the town centre to the amphitheatre and crumbling remains of a fortress, Fethiye is a destination filled with historic charm and a location that never ceases to amaze those that visit.
4. Friendly Locals
Fethiye is a friendly place full of warm and welcoming people. It's refreshing to walk around the town or sit in a café to see people smiling with open eyes and eager to chat with a stranger no matter how broken their English. The Turkish people are well known for their hospitality, and it's one of the main reasons to love Fethiye.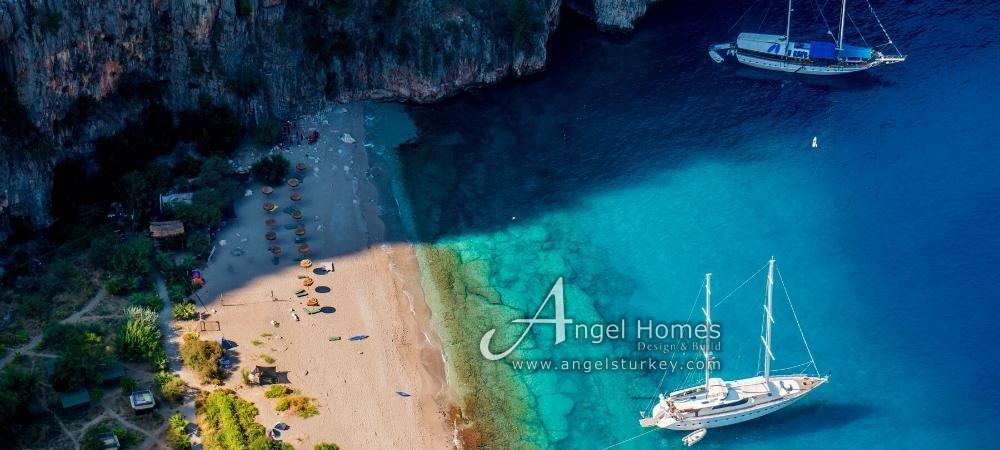 5. A mesmerising coastline
The turquoise coast around Fethiye has been a magnet for sailors for years. Cool-off with a boat trip and discover Fethiye's glorious 12 Islands, pay a visit to a valley full of butterflies, hire a speed boat to explore the bays yourself, or catch a water taxi from Calis to Fethiye centre to see if you can spot a sea turtle – the kids will love it!
6. Dalaman Airport is just a 4-hour flight from the UK
Fethiye and its resorts are less than an hours transfer from Dalaman International Airport, and the flight time is around 4 hours. Regular direct flights run to most UK airports and many European destinations throughout the summer months (from March to November), and via Antalya or Istanbul off-season – sign-up for flight deals and bargains online.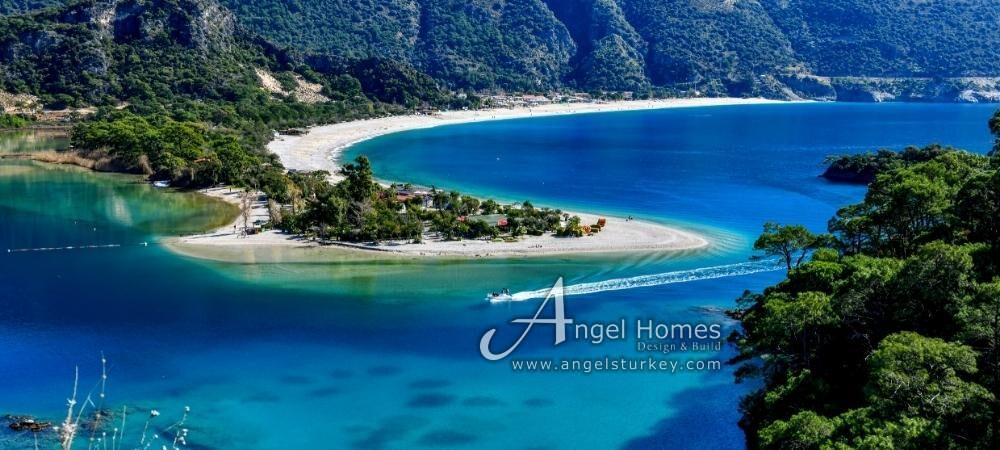 7. Wonderful beaches
Most that visit Fethiye have seen the glorious blue lagoon's photos of Oludeniz, and it is spectacular. But there are also many other beaches around Fethiye. From quiet open stretches like Kidrak with hardly a tourist in sight to bar-backed beaches like Calis ideal for those who want to mix sunbathing, refreshments and dips in the sea, there's a beach in Fethiye for everyone.
8. You can jump off a mountain
Most popular holiday destinations offer sporting activities for those that want more than the sun and sand. But very few offer the chance to fly like a bird from a colossal mountain, soar above a famous lagoon, then land on a beachfront to the applause of your family. If you're an adventurous soul, a tandem paragliding jump from Babadag is a fabulous chance to get the adrenalin pumping and take that Instagram-worthy shot of the famous lagoon.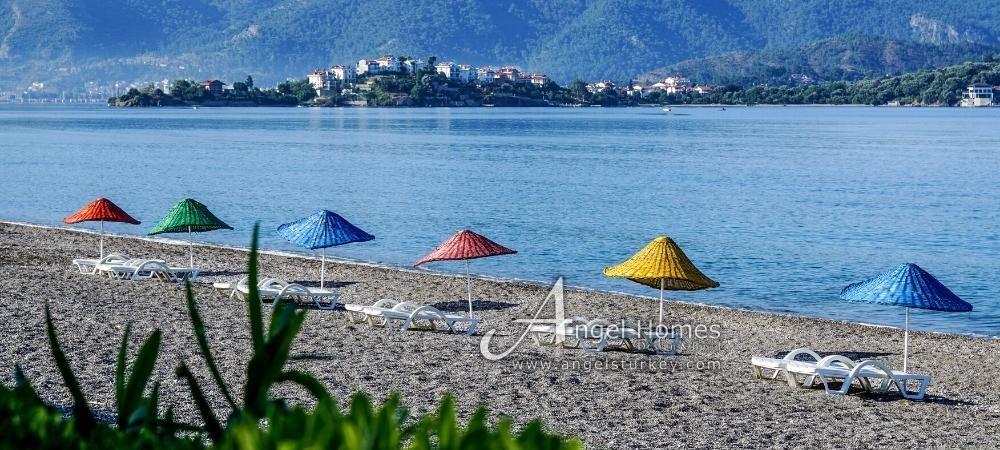 9. There's a resort in Fethiye for everyone
Fethiye is a large and diverse region, with a wide choice of resorts suiting all tastes and budgets. Oludeniz and Calis are most popular for the beach lovers, and for the budget and party crowd, Hisaronu and Ovacik are great options. History-buffs love Kayakoy, and Faralya and Uzumlu are ideal for those that want to stay clear of the tourist crowds. Few regions of Turkey offer the diversity Fethiye does. No matter the base you choose, the entire area can be reached easily via public transport, so there's no excuse for not exploring further afield.
10. Friendly ex-pat community
We've already mentioned the friendly locals, but Fethiye is also home to a growing number of foreigners. The Fethiye area is cosmopolitan and geared towards tourism, so many locals speak English and are happy to help visitors and international residents. There's also an established ex-pat community that regularly gather in the resorts, and several groups on and off-line happy to support foreigners visiting or living in the area.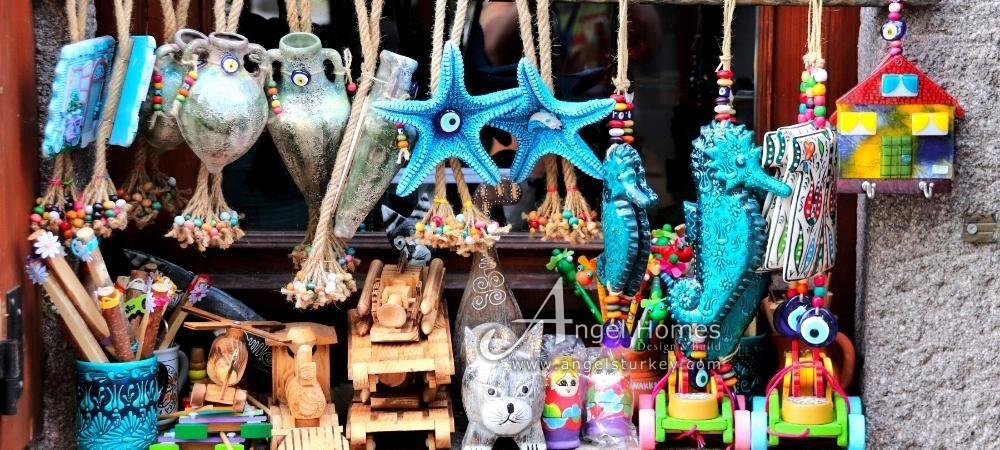 11. Fabulous open markets
If you've never visited a Turkish open market, make sure you do so on your trip to Fethiye. Both Calis and Hisaronu have weekly markets, but the largest and most impressive is the main Fethiye market held each Tuesday. Awnings provide shade over an endless array of stalls selling an eclectic mix of items. From beautiful mosaic lamps, leather goods, traditional clothes and genuine-fake t-shirts, to household goods and a vast selection of seasonal fruit and veg – it will amaze you what the traders sell. Head along and try your hand at haggling if you want a real bargain.
12. Great shopping
If traditional shopping is more your style, you won't be disappointed in Fethiye. The shops in the resorts and town centre stay open until late evening, so there's plenty of chance to treat yourself. Browse the vast array of boutiques, jewellery shops, souvenir stores, and brand names. Buy spices and Turkish delight, or simply browse the outlets and people watch during your evening stroll.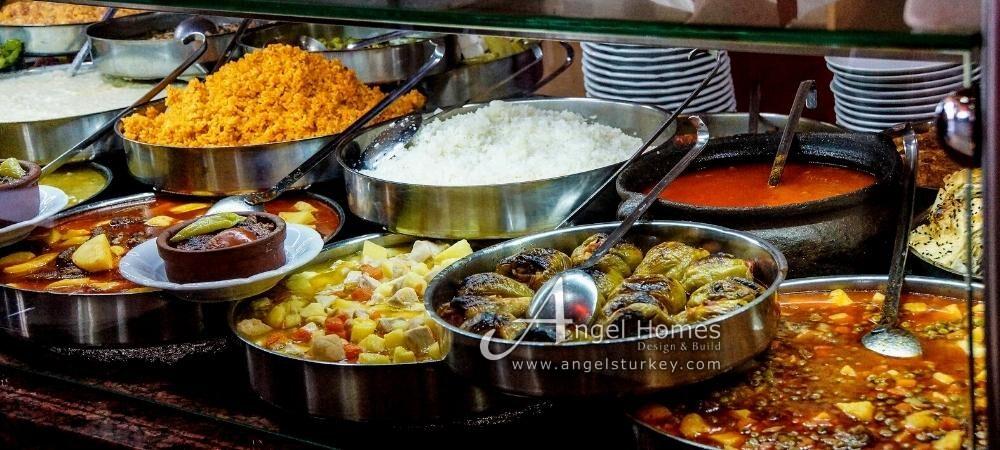 13. Delicious local food
Turkish food is delicious! Fethiye and its resorts are jam-packed full of great restaurants and street-side takeaways, so rest assured you're never far from something fabulous to eat. There's restaurants, cafes and takeaways suiting all tastes and budgets, from fine eateries with fresh seafood dishes and sea views, to cheaper haunts selling a wide selection of local and international dishes. Tip: Take a look online for reviews and pointers on where's best to eat in Fethiye.
14. Affordable cost of living
Undoubtedly, one of the main reasons to love Fethiye is the lower cost of living. The price of accommodation, food and general living is far lower than the UK and many other popular European destinations. A holiday or new life in Fethiye makes sense, and your money will stretch far further.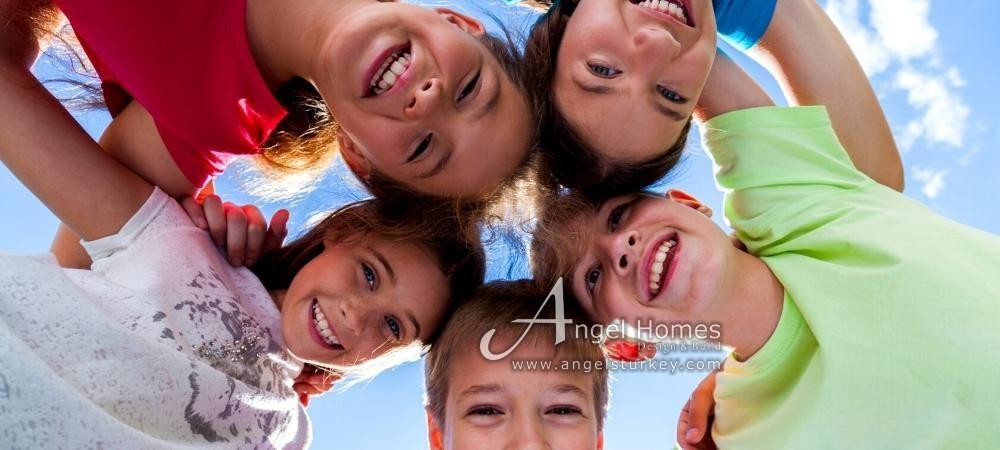 15. Super kid-friendly
Turkish people adore kids, and they happily make a fuss of the little ones when they're in town. Many restaurants have ball-pits and special menus for children, and there are lots of kid-friendly excursions and activities throughout the town. Local children are taught English in school from an early age, so don't be surprised if they try to make friends and practice the few words they know on your youngsters – most visiting children will leave with at least a few new Turkish pals!
16. Good healthcare
Fethiye has a large state hospital, two excellent private hospitals, and many private medical consultancies and dentists boasting excellent facilities should you ever run into a problem. A growing number of foreigners choose to come to Turkey and Fethiye for medical and dental treatment as healthcare is excellent and far cheaper than in the UK.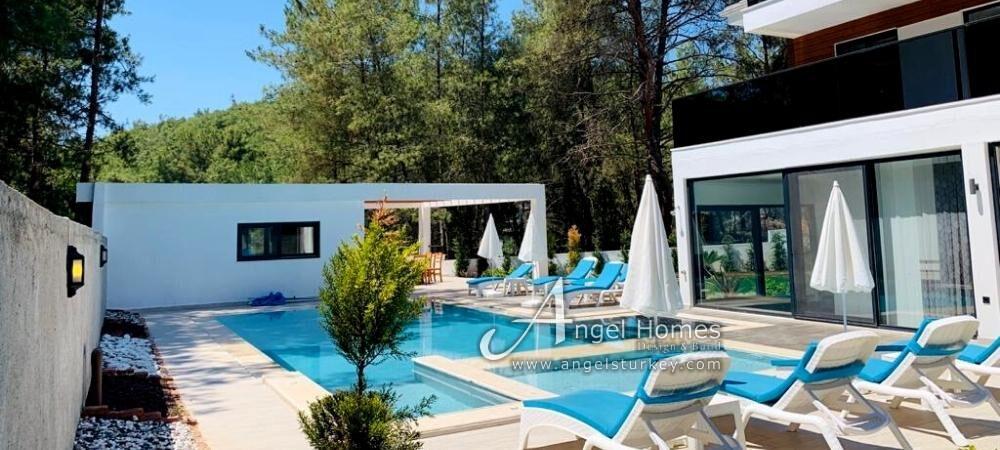 17. Affordable properties for sale and rent in Fethiye
The affordable cost of living is undoubtedly a reason to love Fethiye, but Fethiye's property prices also attract savvy investors. With holiday apartments available for as little as 45,000, and villas starting from as little 130,000, it's often far more realistic than you think to own you own little place in the sun. Property rental demand is also great in the area, so often the investment can pay for itself or a profit can be made if you rent your property during the summer months.
18. Once you visit once, you will return!
It's true – the majority of people that visit Fethiye once are sure to return. Speak to the foreigners you encounter on your travels in Fethiye, and most gladly pass on expert advice on where to go and what to do as they have been so many times. Fethiye is a place that lures you in and doesn't let you go – this is one of the main reasons to love Fethiye!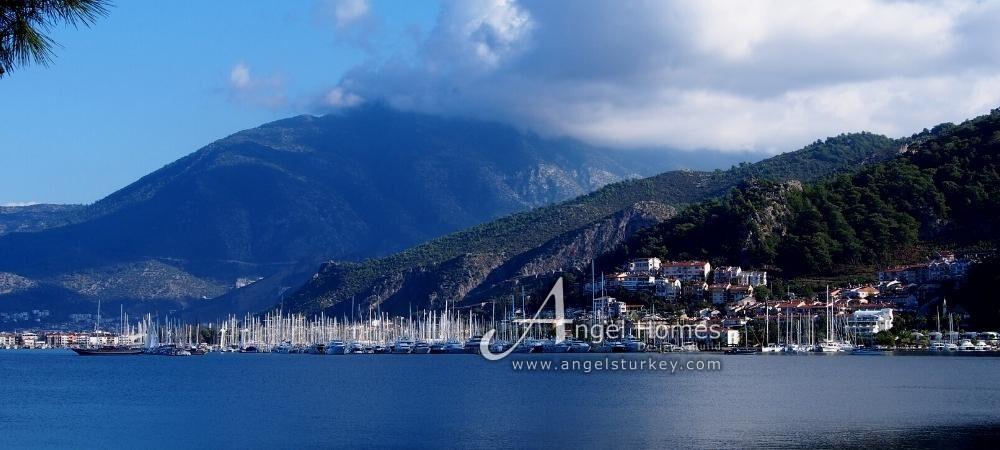 Can you think of any more reasons to love Fethiye?
Fethiye is a great place and there are many reasons to love Fethiye that we haven't mentioned.  Why do you like the area?
To find out more about life in Fethiye, please take a look at the ANGEL HOMES BLOG. If we've convinced you to visit and would like to rent a holiday home or browse properties for sale in Fethiye, please see ANGEL HOMES PROPERTY LISTINGS. 
Summary
Article Name
18 REASONS TO LOVE FETHIYE
Description
The world's a big place with many locations to visit, so it takes an exceptional destination to lure you back time and again. Let us introduce you to Fethiye, a fascinating region of Turkey that mesmerises those that come and calls you back again. Why? Let's take a look - here's 18 reasons to love Fethiye.
Author
Publisher Name
Publisher Logo